About Greg Ribick, Backflow Specialist
American Society Of Sanitary Engineers (ASSE) Certification
To close this window, click on the red "X" or anywhere in the shaded area.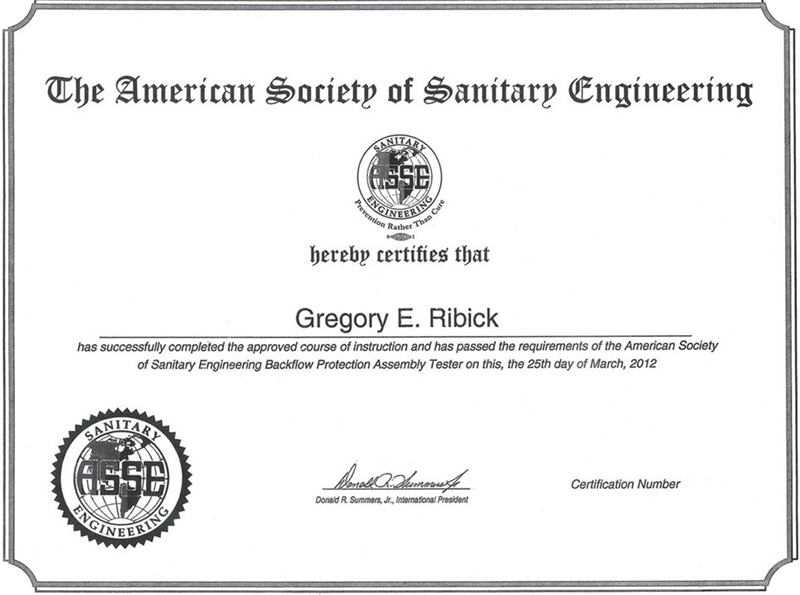 I'm Greg Ribick, "Mr. Backflow," a licensed plumber who specialize in backflow devices: installation of new devices, and inspection, repair and maintenance of existing devices. Mr. Backflow has been certified by the American Society Of Sanitary Engineering (ASSE) as a Certified Backflow Protection Assembly Tester, and he can handle any and all backflow-related issues.
My Passion: Backflow Prevention
Everybody's passionate about something, and for me it's backflow prevention. As a licensed plumber, I've seen a lot - and you can imagine that many times it has not been a pretty sight! I'm a family man, and I know it's critically important to always have the purest, bacteria-free and contaminant-free, sparkling clean water coming from our taps. Who I am and what I've seen has led me to becoming so passionate about Backflow Prevention devices. And because I am passionate about backflow prevention, I do excellent backflow work!
Mr. Backflow's Service Areas
I travel in Chester County, Delaware County and Montgomery County taking care of backflow prevention device issues - some are complex, and some not-so-complex, but all are important! If your town and zip code are not listed, but you're in Chester, Delaware or Montgomery County, you may still be in my service area - just ask!
Chester County Towns (in alphabetical order): Atglen 19310, Avondale 19311, Berwyn 19312, Birchrunville 19421, Brandamore 19316, Chatham 19318, Chester Springs 19425, Coatesville 19320, Cochranville 19330, Devault 19432, Devon 19333, Downingtown 19335, Elverson 19520, Exton 19341, Gap 17527, Glenmoore 19343, Honey Brook 19344, Immaculata 19345, Kelton 19346, Kemblesville 19347, Kennett Square 19348, Kimberton 19442, King Of Prussia 19406, Landenberg 19350, Lewisville 19351, Lincoln University 19352, Lionville 19353, Lyndell 19354, Malvern 19355, Modena 19358, New London 19360, Nottingham 19362, Norristown 19401, Norristown 19403, Oxford 19363, Paoli 19301, Parker Ford 19457, Parkesburg 19365, Phoenixville 19460, Pomeroy 19367, Pottstown 19465, Sadsburyville 19369, Saint Peters 19470, Southeastern 19399, Spring City 19475, Thorndale 19372, Toughkenamon 19374, Unionville 19375, Uwchland 19480, Valley Forge 19481, Valley Forge 19482, Valley Forge 19483, Valley Forge 19484, Valley Forge 19485, Valley Forge 19493, Valley Forge 19494, Valley Forge 19495, Valley Forge 19496, Wagontown 19376, Wayne 19087, West Chester 19380, West Chester 19382, West Chester 19383, West Grove 19390 and Westtown 19395.
Delaware County Towns (in alphabetical order): Aston 19014, Brookhaven 19015, Broomall 19008, Bryn Mawr 19010, Chadds Ford 19317, Concordville 19331, Drexel Hill 19026, Edgemont 19028, Garnet Valley 19060, Glen Mills 19342, Glen Riddle Lima 19037, Havertown 19083, Lansdowne 19050, Lenni 19052, Media 19063, Newtown Square 19073, Springfield 19064, Swarthmore 19081, Thornton 19373, Villanova 19085, Wallingford 19086 and Wayne 19087.
Montgomery County Towns (in alphabetical order): Arcola 19420, Ardmore 19003, Audubon 19403, Bridgeport 19405, Collegeville 19426, Creamery 19430, Eagleville 19403, Fairview Village 19409, Gilbertsville 19525, King Of Prussia 19406, Limerick 19468, Norristown 19401, Norristown 19403, Oaks 19456, Plymouth Meeting 19462, Pottstown 19464, Royersford 19468, Schwenksville 19473, Valley Forge 19481, Valley Forge 19482, Valley Forge 19483, Valley Forge 19484, Valley Forge 19485, Valley Forge 19493, Valley Forge 19494, Valley Forge 19495 and Valley Forge 19496.
Have Backflow Prevention Issues? Call Mr. Backflow!
If you need inspection of a backflow preventer device, or need to have your backflow device repaired, or if you would like to arrange installation of a backflow protection assembly or device, please call us at
(610) 909-0906
any weekday between 8:00am and 8:00pm, or use the "Contact Us" feature of this website 24/7/365.
Greg Ribick, Mr. Backflow
Certified Backflow Technician

and Licensed Master Plumber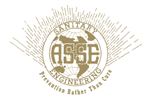 Contact Us
Use this form to send a message to us, 24 hours a day, 7 days a week, all 365 days of the year - we'll get back to you no later than the morning of our next business day.
* = required field