To close this window, click on the red "X" or anywhere in the shaded area.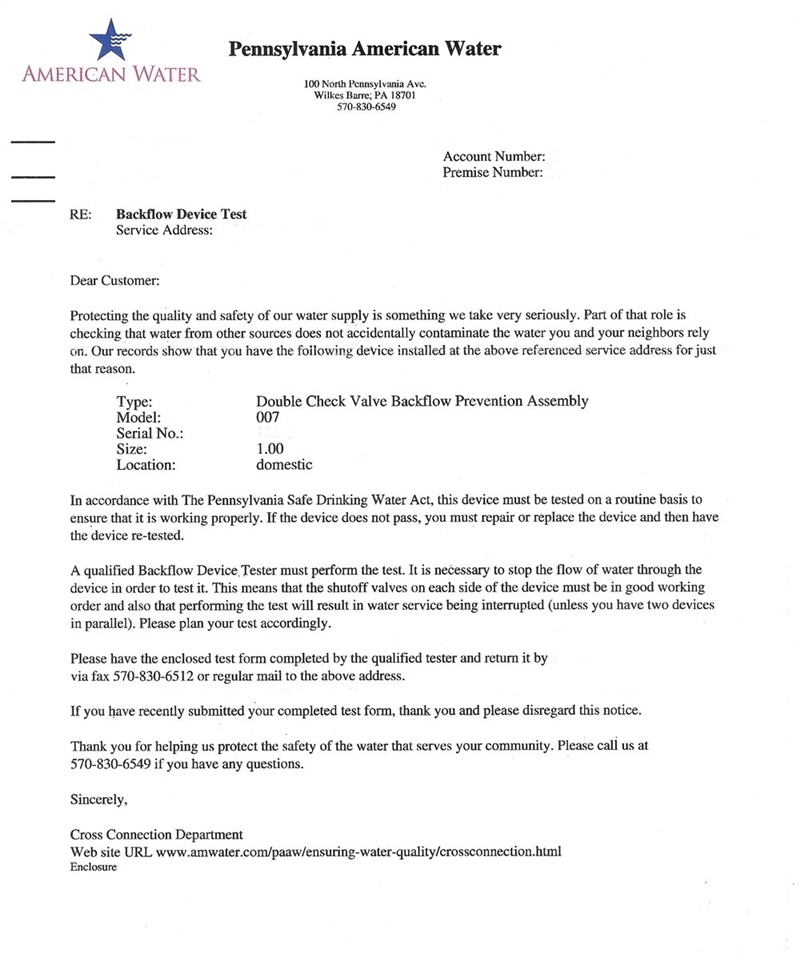 To close this window, click on the red "X" or anywhere in the shaded area.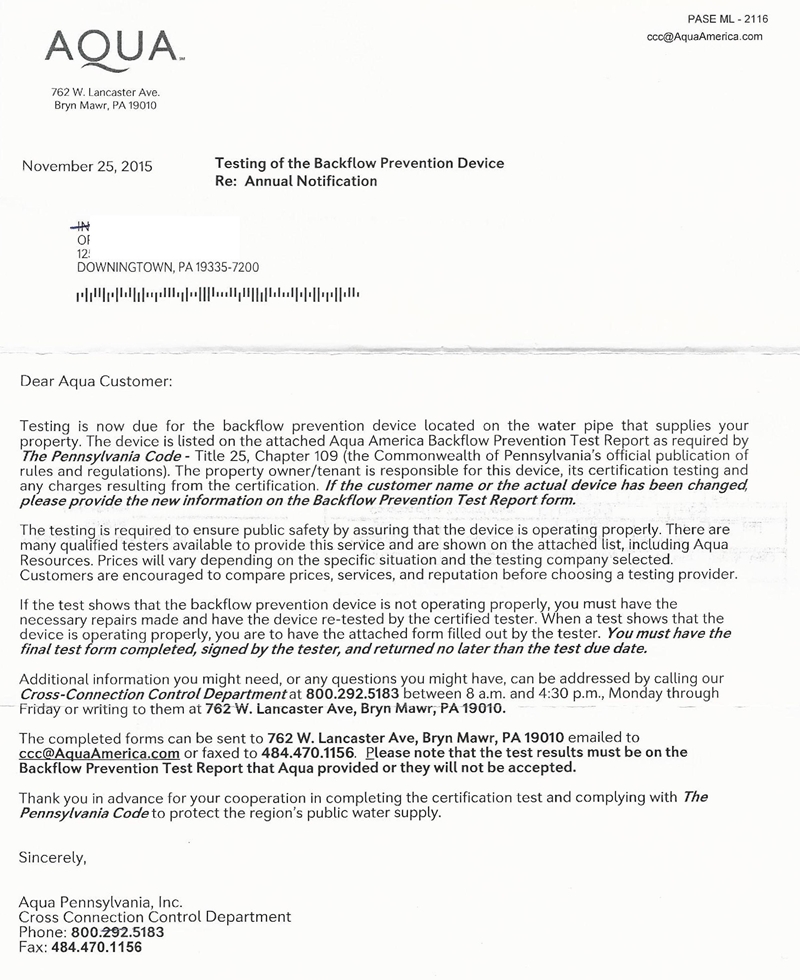 To close this window, click on the red "X" or anywhere in the shaded area.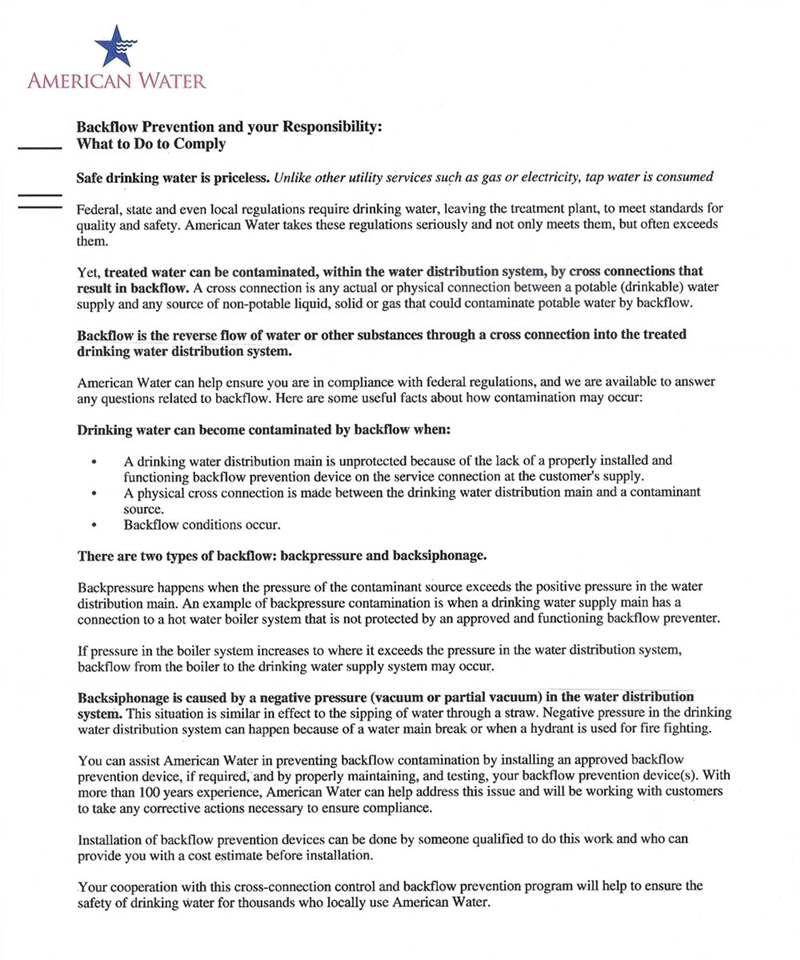 Backflow Preventer: Testing And Certification
Did You Receive A Letter Like These From Your Water Company?
If you got a letter like the ones at the right from your water company, then you're looking for someone like me! I'm Greg Ribick, "Mr. Backflow," and I'm a Certified Technician, certified by the American Society of Sanitary Engineering (ASSE) to test and certify that Backflow Preventers are functioning correctly.
Water companies like Pennsylvania Water, a division of American Water, and Aqua Pennsylvania, and all other water companies, are required by law to meet strict water quality standards. Other water companies in our service area are Audubon Water Company, Aqua Pennsylvania, Kennett Square Municipal Water Works, Norristown Pennsylvania American Water and North Penn Water Authority.
Or Did Your Water Company Send You A Letter Like This?
Strict water quality standards are totally understandable, because everyone wants pure, sparkling, crystal-clear and bacteria and contaminant-free water coming from their taps. But clear, pure water does not happen accidentally, and that's something we all need to remember and never take for granted. Pennsylvania American Water and all of these local water companies work very hard every single day to meet or exceed all federal, local and Pennsylvania standards and regulations. Backflow preventers are purity guardians, devices that are always on the alert to help our water companies keep their water supply pure and free of any contaminants.
That's why Pennsylvania American Water and other water companies send letters like these (click here for samples of letters sent by Aqua Pennsylvania giving notice of the required annual backflow inspection and certification, plus their 10 Day Shut-Off Notice). In the event any individual customer's backflow preventer was to malfunction or fail, it could contaminate the water supply not only for that home or business, but also for hundreds or even thousands of other customers of the water company.
Backflow Preventers protect the water company's supply of water by preventing contaminated water from homes or businesses from accidently seeping back into the supply of fresh water; or perhaps from cross-contamination of your own pipes or hoses.
Every business and home that is equipped with Backflow Preventer safety devices must maintain them to ensure they are in proper working order. Every year your backflow preventer must be inspected for any defects by an Authorized Tester or Certified Technician such as myself, Greg Ribick, "Mr. Backflow." Testing is also required for new installations or when any repairs are made to the backflow prevention device.
"Mr. Backflow" Is Ready To Solve Any Backflow Need
We're Specialists In Inspecting, Testing, Repairing & Installing Backflow Preventers and Backflow Prevention Devices
If you need your Backflow Preventer tested and certified, please call us at
(610) 909-0906
any weekday between 8:00am and 8:00pm, or use the "Contact Us" feature of this website 24/7/365.
If you would like to know more about backflow preventions devices, including such devices as Pressure Vacuum Breakers, Spill Resistant Pressure Vacuum Breakers, Double Check Valve Assembly, Reduced Pressure Principle Assembly, Double Check Valve Detector Assembly and Reduced Pressure Principle Detector Assembly, visit the various pages on the website.
I am very passionate about Backflow Prevention devices, and I would be happy to tell you a little bit about these wonderful inventions. We have pages for Backflow Devices FAQ (Frequently Asked Questions), plus pages about Backflow Inspections, Backflow Repair, and Backflow Device Installation. We also have a "We Get Letters" page with a few testimonials, and an "About Us" page with a little information about me, and of course our "Contact Us" page.
Mr. Backflow's Service Areas
I travel in Chester County, Delaware County and Montgomery County taking care of backflow prevention device issues - some are complex, and some not-so-complex, but all are important! If your town and zip code are not listed, but you're in Chester, Delaware or Montgomery County, you may still be in my service area - just ask!
Chester County Towns (in alphabetical order): Atglen 19310, Avondale 19311, Berwyn 19312, Birchrunville 19421, Brandamore 19316, Chatham 19318, Chester Springs 19425, Coatesville 19320, Cochranville 19330, Devault 19432, Devon 19333, Downingtown 19335, Elverson 19520, Exton 19341, Gap 17527, Glenmoore 19343, Honey Brook 19344, Immaculata 19345, Kelton 19346, Kemblesville 19347, Kennett Square 19348, Kimberton 19442, King Of Prussia 19406, Landenberg 19350, Lewisville 19351, Lincoln University 19352, Lionville 19353, Lyndell 19354, Malvern 19355, Modena 19358, New London 19360, Nottingham 19362, Norristown 19401, Norristown 19403, Oxford 19363, Paoli 19301, Parker Ford 19457, Parkesburg 19365, Phoenixville 19460, Pomeroy 19367, Pottstown 19465, Sadsburyville 19369, Saint Peters 19470, Southeastern 19399, Spring City 19475, Thorndale 19372, Toughkenamon 19374, Unionville 19375, Uwchland 19480, Valley Forge 19481, Valley Forge 19482, Valley Forge 19483, Valley Forge 19484, Valley Forge 19485, Valley Forge 19493, Valley Forge 19494, Valley Forge 19495, Valley Forge 19496, Wagontown 19376, Wayne 19087, West Chester 19380, West Chester 19382, West Chester 19383, West Grove 19390 and Westtown 19395.
Delaware County Towns (in alphabetical order): Aston 19014, Brookhaven 19015, Broomall 19008, Bryn Mawr 19010, Chadds Ford 19317, Concordville 19331, Drexel Hill 19026, Edgemont 19028, Garnet Valley 19060, Glen Mills 19342, Glen Riddle Lima 19037, Havertown 19083, Lansdowne 19050, Lenni 19052, Media 19063, Newtown Square 19073, Springfield 19064, Swarthmore 19081, Thornton 19373, Villanova 19085, Wallingford 19086 and Wayne 19087.
Montgomery County Towns (in alphabetical order): Arcola 19420, Ardmore 19003, Audubon 19403, Bridgeport 19405, Collegeville 19426, Creamery 19430, Eagleville 19403, Fairview Village 19409, Gilbertsville 19525, King Of Prussia 19406, Limerick 19468, Norristown 19401, Norristown 19403, Oaks 19456, Plymouth Meeting 19462, Pottstown 19464, Royersford 19468, Schwenksville 19473, Valley Forge 19481, Valley Forge 19482, Valley Forge 19483, Valley Forge 19484, Valley Forge 19485, Valley Forge 19493, Valley Forge 19494, Valley Forge 19495 and Valley Forge 19496.
Greg Ribick, Mr. Backflow
Certified Backflow Technician

and Licensed Master Plumber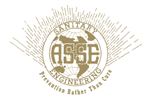 Contact Us
Use this form to send a message to us, 24 hours a day, 7 days a week, all 365 days of the year - we'll get back to you no later than the morning of our next business day.
* = required field