To close this window, click on the red "X" or anywhere in the shaded area.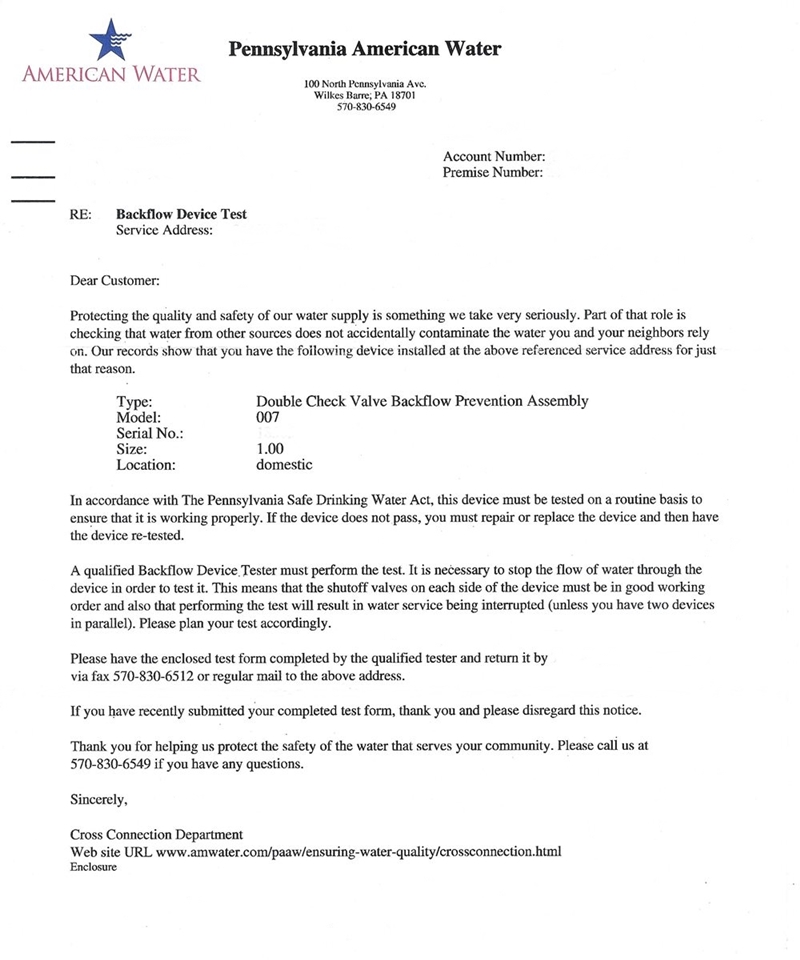 To close this window, click on the red "X" or anywhere in the shaded area.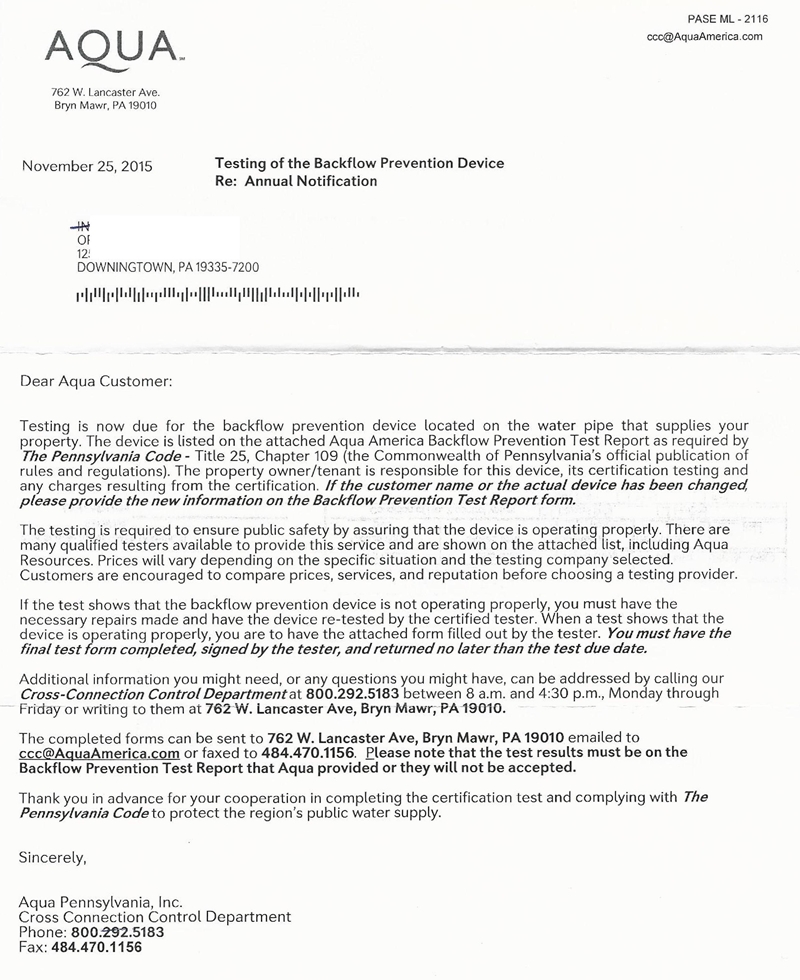 To close this window, click on the red "X" or anywhere in the shaded area.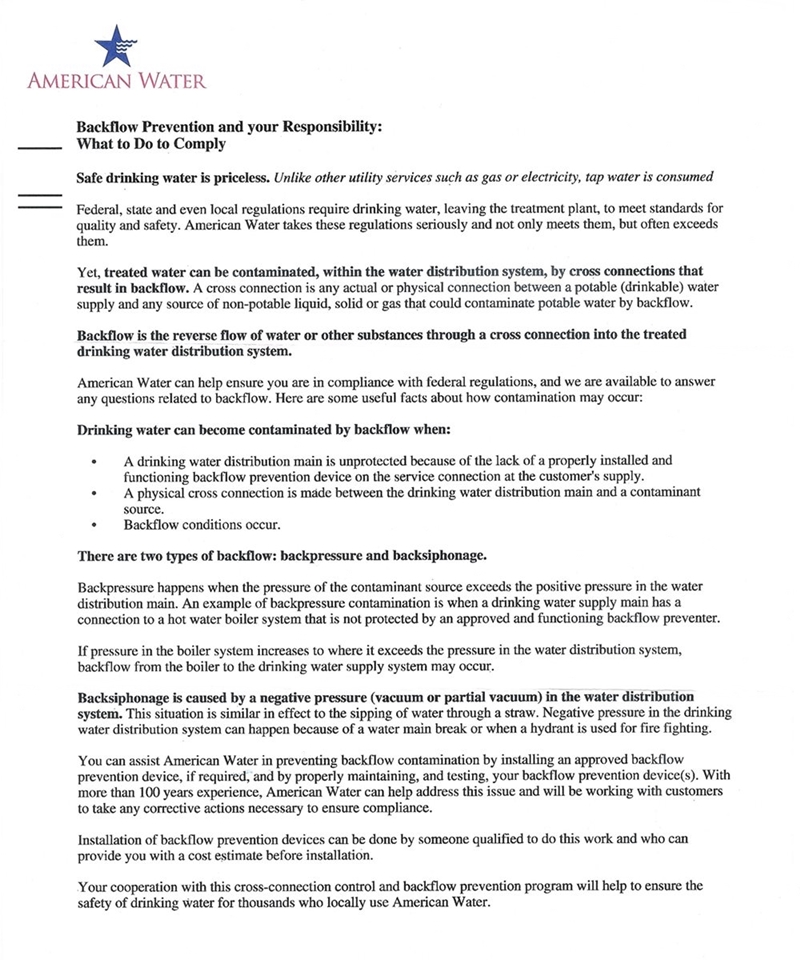 Backflow Preventer: Testing And Certification
Did You Get A Letter Like These From Your Water Company?
If you got a letter like the ones at the right from your water company, then you're looking for someone like me! I'm Greg Ribick, "Mr. Backflow," and I'm a Certified Technician, certified by the American Society of Sanitary Engineering (ASSE) to test and certify that Backflow Preventers are functioning correctly.
Water companies like Pennsylvania Water, a division of American Water, and Aqua Pennsylvania, and all other water companies, are required by law to meet strict water quality standards. Other water companies in our service area are Audubon Water Company, Bern Township Municipal Authority, Bethel United Water, Boyertown Municipal Authority, Chester Water Authority, Flying Hills Water System Aqua Pennsylvania, Hatboro Aqua Pennsylvania, Horsham Water and Sewer Authority, Kennett Square Municipal Water Works, London Grove Township Municipal Authority, Norristown Pennsylvania American Water, North Penn Water Authority, Ontelaunee Township Municipal Authority, Oxford Borough, Reading Area Water Authority, Shillington Municipal Authority, Uwchlan Township Aqua Pennsylvania, Wernersville Municipal Water Authority, West Reading Borough Water Authority, Western Berks Water Authority and Wyomissing Borough Water System.
Or Did Your Water Company Send You A Letter Like This?
Strict water quality standards are totally understandable, because everyone wants pure, sparkling, crystal-clear and bacteria and contaminant-free water coming from their taps. But clear, pure water does not happen accidentally, and that's something we all need to remember and never take for granted. Pennsylvania American Water and all of these local water companies work very hard every single day to meet or exceed all federal, local and Pennsylvania standards and regulations. Backflow preventers are purity guardians, devices that are always on the alert to help our water companies keep their water supply pure and free of any contaminants.
That's why Pennsylvania American Water and other water companies send letters like these (click here for samples of letters sent by Aqua Pennsylvania giving notice of the required annual backflow inspection and certification, plus their 10 Day Shut-Off Notice). In the event any individual customer's backflow preventer was to malfunction or fail, it could contaminate the water supply not only for that home or business, but also for hundreds or even thousands of other customers of the water company.
Backflow Preventers protect the water company's supply of water by preventing contaminated water from homes or businesses from accidently seeping back into the supply of fresh water; or perhaps from cross-contamination of your own pipes or hoses.
Every business and home that is equipped with Backflow Preventer safety devices must maintain them to ensure they are in proper working order. Every year your backflow preventer must be inspected for any defects by an Authorized Tester or Certified Technician such as myself, Greg Ribick, "Mr. Backflow." Testing is also required for new installations or when any repairs are made to the backflow prevention device.
"Mr. Backflow" Is Ready To Solve Any Backflow Need
We're Specialists In Inspecting, Testing, Repairing & Installing Backflow Preventers and Backflow Prevention Devices
If you need your Backflow Preventer tested and certified, please call us at
(610) 909-0906
any weekday between 8:00am and 8:00pm, or use the "Contact Us" feature of this website 24/7/365.
If you would like to know more about backflow preventions devices, including such devices as Pressure Vacuum Breakers, Spill Resistant Pressure Vacuum Breakers, Double Check Valve Assembly, Reduced Pressure Principle Assembly, Double Check Valve Detector Assembly and Reduced Pressure Principle Detector Assembly, visit the various pages on the website.
I am very passionate about Backflow Prevention devices, and I would be happy to tell you a little bit about these wonderful inventions. We have pages for Backflow Devices FAQ (Frequently Asked Questions), plus pages about Backflow Inspections, Backflow Repair, and Backflow Device Installation. We also have a "We Get Letters" page with a few testimonials, and an "About Us" page with a little information about me, and of course our "Contact Us" page.
Mr. Backflow's Service Areas
I travel throughout Montgomery County, Chester County, Berks County and Lehigh County taking care of backflow prevention issues - some are simple and some are complex, but all are important!
Montgomery County Towns (in alphabetical order): Abington, Ambler, Arcola, Ardmore, Audubon, Bala Cynwyd, Blue Bell, Bridgeport, Bryn Athyn, Cedars, Cheltenham, Collegeville, Colmar, Conshohocken, Creamery, Dresher, Eagleville, Earlington, East Greenville, Elkins Park, Fairview Village, Flourtown, Fort Washington, Franconia, Frederick, Gilbertsville, Gladwyne, Glenside, Green Lane, Gwynedd, Gwynedd Valley, Harleysville, Hatboro, Hatfield, Haverford, Horsham, Huntingdon Valley, Jenkintown, King Of Prussia, Kulpsville, Lafayette Hill, Lansdale, Lederach, Limerick, Mainland, Merion Station, Mont Clare, Montgomeryville, Narberth, Norristown, North Wales, Oaks, Oreland, Palm, Pennsburg, Perkiomenville, Plymouth Meeting, Pottstown, Red Hill, Royersford, Salford, Salfordville, Sassamansville, Schwenksville, Skippack, Souderton, Spring House, Spring Mount, Sumneytown, Telford, Tylersport, Valley Forge, West Point, Willow Grove, Worcester, Woxall, Wyncote, Wynnewood and Zieglerville.
Chester County Towns (in alphabetical order): Atglen, Avondale, Berwyn, Birchrunville, Brandamore, Chatham, Chester Springs, Coatesville, Cochranville, Devault, Devon, Downingtown, Elverson, Exton, Glenmoore, Honey Brook, Immaculata, Kelton, Kemblesville, Kennett Square, Kimberton, King Of Prussia, Landenberg, Lewisville, Lincoln University, Lionville, Lyndell, Malvern, Mendenhall, Modena, New London, Norristown, Nottingham, Oxford, Paoli, Parker Ford, Parkesburg, Phoenixville, Pocopson, Pomeroy, Pottstown, Sadsburyville, Saint Peters, Southeastern, Spring City, Suplee, Thorndale, Toughkenamon, Unionville, Uwchland, Valley Forge, Wagontown, West Chester, West Grove and Westtown.
Berks County Towns (in alphabetical order): Bally, Barto, Bechtelsville, Bernville, Bethel, Birdsboro, Blandon, Bowers, Boyertown, Centerport, Douglassville, Earlville, Exeter, Fleetwood, Geigertown, Hamburg, Hereford, Kempton, Kenhorst, Kutztown, Laureldale, Leesport, Lenhartsville, Limekiln, Lyon Station, Maxatawny, Mertztown, Mohnton, Mohrsville, Monocacy Station, Morgantown, Mount Aetna, Muhlenberg, New Berlinville, Oley, Pine Forge, Reading, Rehrersburg, Robesonia, Shartlesville, Shillington, Shoemakersville, Sinking Spring, Strausstown, Temple, Topton, Virginville, Wernersville, West Lawn, Womelsdorf and Wyomissing.
Lehigh County Towns (in alphabetical order): Alburtis, Allentown, Bethlehem, Breinigsville, Catasauqua, Center Valley, Coopersburg, Coplay, East Texas, Emmaus, Fogelsville, Fountain Hill, Germansville, Hanover Township, Heidelberg, Laurys Station, Lehigh Township, Limeport, Lowhill, Lynn, Macungie, Milford, Neffs, New Tripoli, Old Zionsville, Orefield, Salisbury, Schnecksville, Slatedale, Slatington, Trexlertown, Upper Saucon, Washington Township, Weisenberg Township, Whitehall and Zionsville.
Greg Ribick, Mr. Backflow
Certified Backflow Technician

and Licensed Master Plumber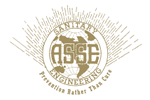 Contact Us
Use this form to send a message to us, 24 hours a day, 7 days a week, all 365 days of the year - we'll get back to you no later than the morning of our next business day.
* = required field